WELCOME TO HEMALATA HANDIQUI MEMORIAL INSTITUTE
HHMI is affiliated with the Central Board of Secondary Education since 2008 which is recognized by the Ministery of Human resources Development , Govt. of India. The NOC Number of the school is CIS/NOC/15/2008/2 dtd. 19th March' 2008. The Affiliation Number of the school is 230084...... read more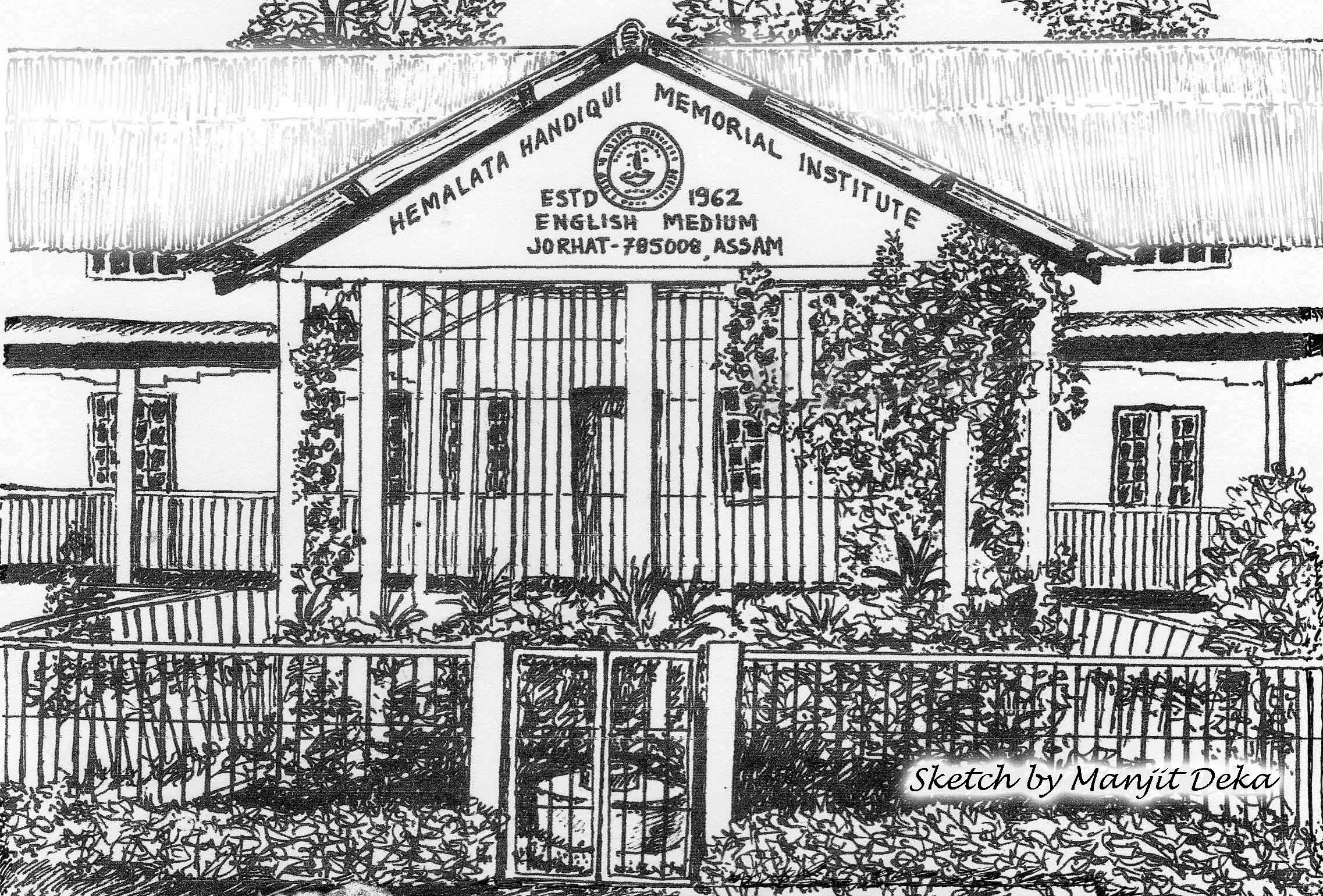 The Making of HHMI
(This abridged interview of B K Handique, as told to Smita Addy, an alumni of HHMI, first appeared in Time Present, Time Past, a volume released on, 2012 to mark the golden jubilee celebrations of the school.)
Hemalata Handiqui Memorial Institute (HHMI) was set up by eminent scholar and philanthropist Krishna Kanta Handique, in memory of his wife Hemalata Handique. Being an educationist, there could hot have been a more befitting tribute to his wife than building an institution of learning.
The first English medium school in Jorhat, and the third in Upper Assam, was established in 1962, a few months before the Indo-China War broke out. But its history stretches far back in time and is closely linked to the history of Jorhat and its many citizens who built pioneering educational institutes.

In the 1920s, Jorhat was a screne town.Handiqui came back home from the United Kingdom and other European countries after completing his studies in Oxford and other centres of learning. After his return, he immersed himself along with other progressive men to establish what would be the first college in Upper Assam, the Jagannath Barooah College. Being an erudite scholar, Handiqui decided not to take up any government job. As he pursued his literacy interests , he also spent time in company of his contemporaries to build Jagannath Barooah College. Members of this progressive group including Tulashi Narayan Sharma, Jajnaswar Sharma, Fanidhar Dutta, Prafulla Pran Changkakoti and Guna Govinda Dutta any many others, persisted with the project right from collecting funds to searching for teachers. Handiqui was asked to become the first Principal. A few members of group become lecturers. The launching of institute based solely on public efforts was a challenge in those days. There were only two reputed colleges region then – Cotton College in Guwahati and Murari Chand College in Sylhet, which is now in Bangladesh. Both were government - funded colleges. The real test was to set up the first private institution for higher education in the North East region, Jagannath Barooah College was finally born in 1930. After India's Independence, my father accepted the offer to become the first Vice Chancellor of the then-new Gauhati University. He held that position from 1948 to 1957, the year he retired. Tragedy, however, struck our family when my mother died on July 20, 1961. My father held discussions with his peers, among them his childhood friend, the philanthropist Prasanna Kumar Barooah (he was the best man at my parents wedding), as to what kind of educational institute would serve the needs of time. Finally, a consensus evolved that an English medium school would be an appropriate venture. There were many people who came to Jorhat to work in the Indian Air Force and the Army bases, the Tocklai Experimental Station, the Regional Research Laboratory and in offices of the central government. Their families could not join them as there was no English medium school in town. The question then arose as to where to start the school. It was while we were searching for rented house that Prasanna Barooah suggested using the Jorhat Club. Barooah was then the Club's chairman.

The school is born
The school started on March 5, 1962, with five children. The club's hall was partitioned with removable plywood boards to hold classes. The long verandah and other rooms were used for other school activities. After school hours, it went back to being a club. Few know today that the Jorhat Club shares a tenuous link with the Second World War. During the War, it served as a large make- shift hospital and an operation theatre for wounded Allied Forces soldiers arriving from the battlefront.
Prior to the construction of the Hospital, this ground had been a large playground to hold sports tournaments. It was taken over by the British government to build the Hospital in 1943 as the war spread to the eastern front. After the place was vacated, contractor Achchar Singh was told to dismantle and auction off the construction material. He was, however, requested by Barooah, then chairman of Jorhat Municipal Board, not to destroy the operation theatre and to turn it into a sports club. Achchar Singh gave it away for a throwaway price and renovated the club.
Meanwhile, we began looking for permanent home for school. About seven acres of land was purchased from Darshan Singh in Lichubari on southern outskirts of Jorhat town. A brick kiln existed in the land then. It had a narrow strip of high ground, where the school stands today, surrounded by low land and dug-out ponds. Darshan was considering starting a fishery project.
In 1964, the late Chief Minister, Bimala Prasad Chaliha, a man who was instantly attracted to new efforts at promoting education, visited the half-built school. He asked my father if there is anything he could do to help. Deuta requested for the two-and-a-half acre low-lying in front of the school from government. We had the money for construction. In verbal order, Chaliha asked the Deputy Commissioner, Changte Lal Rema, allot the land. We owe a lot of gratitude to wide-cross section of our community for coming forward to help us in our endeavour.

PERMANENT HOME
In the midst of planning the new school, we suffered our first casualty on account of the Indo-China War. Many people fled following the Chinese aggression and the fall of Tawang and Bomdila in the northeastern frontier. There was great panic. Our first Principal, J.S.Walters went missing. He left without notice, taking only his bicycle with him. Due to fears of a full-scale war, the school was closed for a month. I, too, became involved in organizing Red Cross training and other emergency preparations. As a goodwill gesture, the school gave its vechile, a station wagon, to organize relief efforts.
We started construction at the new site on January 2, 1963. It took two years to complete. Just as the school was preparing to shift to Lichubari campus, another violent incident- the Pakistan incursion in Junagadh in western India –occurred. There was full-scale civil defence preparation in our town. We had to move into our new premises even though construction and land development were still on. The Jorhat Club could not cope with the fast-increasing new admissions. It was as if wars dogged us at every step. Fifty years ago, there were a lot of challenges in starting an English medium school. The school had to set its academic course according to the Indian Council School Certification Examination curricula, which had strict guidelines. Mr A.E.T Barrow, Secretary of the I.C.S.E. council, a polished gentleman with a literacy bent of mind and a Member of Parliament from the Anglo Indian Community, visited the school. After satisfying himself that we fulfilled all the necessary criteria , he gave our modest school clearance within months.

TEACHERS ON BOARD
We also had to look for a new Principal after J.S.Walters left. A British teacher, Ms K. Raulson, joined as Principal in 1964. However, she was unable to adjust herself to her new surrounding. She left after she broke her arm in the school campus while construction work was still on. We then brought William Singh , Vice Principal of Ewing Christian College, Allahabad, under whose tutelagethe school took concrete shape. Hiring good teachers was also a tough experience.I had to personally visit many homes to request them to join the school.Among them were Anne Goldsmith, Labanya Baruah, Maya Baruah, Aruna Singh, Deepa Moitra, Mrs Hobbs, Mrs Fernandez, Mrs Abral, Mrs Raina, Mrs Moutia and many others.
In order to organize teachers for subjects such as Science and Commerce for the senior classes, we took the help and guidance of Professor Mukul Chaliha, Professor (Late) Nirmal Goswami, Professor Bimal Baruah, Professor Dulal Bhattacharjee and Professor Faizur Rehman. Some wives of Air Force officers, such as Mrs N. Birch, who composed the school anthem, and Anjali Kirloskar, also joined us. Help came from unexpected quarters. Bhupal Chandra Ghosh, late Prasanna Barooah's accountant, assisted us to take care of the financial matters in school. I chanced upon Dennis Bangs when he was helping his father. Boswell, to run a garage in Mitha Pukhuri. I often took my car for repairs there. We got talking and I liked him instantly. Little was I to know then that Dennis, along with Anne Goldsmith, would introduce such a brilliant tradition of music to the school that the children cannot forget even now.
With such a rich stiff of teachers, it was hardly surprisingly that the students excelled. They lifted many trophies in sports and debate. They put up excellent performances of songs, dance, dance dramas and acted select scenes from Shakespeare's Macbeth, which were presented on Annual School Day functions. It gives me immense pleasure to know that they are well settled in life. In 1968, we started a hostel with 10 boys and girls on the request of Arunachal administration. It was not yet a state then and was known as the North East Frontier Agency. We rented a manager's bungalow at Murmuria Tea Estate for a few months, and then moved to a more spacious house at Chinnamara Tea State in Baghdhora. We named it "Tirap House" as many of the boarders came from the easternmost Tirap region. It took five years to ready the boys' boarding house in the school campus. About the same time, my father bought a plot of land across the school from A. J. Maine Company. The old house that was standing on the plot and used by the river navigation company as a godown, was converted into a boarding house for girls.
Like any other institute, HHMI suffered from teething troubles. In 1975, the Indian School Certificate curriculum was introduced for class 11 and class 12 for a few years. On the advice of parents and based on popular sentiments of the time, the school switched over to the State Education Board of Assam curriculum. At this stage, I have to admit that the school passed through trying times, even though it consistently produced good results. In 2010, the school applied for affiliation to the Central Board of Secondary Education and the first batch appeared this year with success. Plans are underway to open Class 11 and Class 12 in the next two years. The school is currently improving its infrastructure. A mound of greenery measuring three bighas and fourteen lechas adjacent to the school boundary, owned by Tea Research Association, has been handed over to the school on the occasion of its golden jubilee this year. There are plans to develop this land as a botanical garden.
An institution cannot be built without people and their munificent wishes. I thank all the former teachers and office staff, the current teachers and office staff, the students and the alumni. Last year, when a few alumni boys, Ankush, Pawitar, Brijesh, Medinee, Abhilash and Bonny arrived at my Jorhat house to say they wanted to celebrate golden jubilee of the school, I realized how time had flown.
In March this year, some of my old students- Arun Behl, Indrani and Gautam Barooah, Girish Agarwalla and others who studied at the school- met me at my residence in New Delhi. I tried my best to remember what they must have looked like when they were children.
I wish them luck for their magnanimous gesture to make the event a success.
28 OCTOBER 2012 (As told to Smita Addy)
Vision
HHMI is committed to the welfare of its students. It consistently amis to provide a modern learning program in a secular environment and enable its students to adapt to new challenges to the future.
- will provide the best setting for education, a soundation necessary to produce excellent minds.
- will offer all assistance to students to achieve positive academic results.
- will aim for all-round excellence and is committed to harnessing flair of each child.
We believe that educating children in science and humanities is as important as providing a window to understand the world around them.
As in the past, it welcomes students of different cultural backgrounds form the northeast and other parts of India to be part of its community.